YES! Heating your home! Remember burning Hydrogen gas does NOT produce carbon monoxide fumes, only water vapor is produced keeping your home warm and moist in thus cold winter months just ahead.
Finally get ride of thus high winter fuel bills and humidifiers.
100% efficient heating is here now in the Hydrogen Age!
---
CAST IRON SINGLE BURNER HYDROGEN STOVE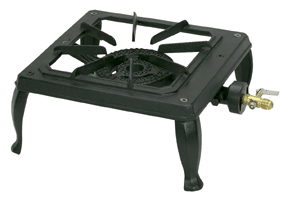 Only $29.95 / plus $8.50 S&H
This is a great choice for any cookout. Features single burner with brass valve
attached to manifold with metal type panel.